Fire or just smoke?
Intelligent Heat Alarm
Imagine always having a frient protecting you against fire.
Someone who keeps your home and loved ones safe. A frient who makes sure that you are alerted instantly in case of fire - and who is more than just a beep beep.
Now that's a frient!
Avoid false alerts
You have a fireplace in the living room or a dusty and humid storage area and your smoke alarm keeps going off mistakenly? Don't despair, your frient is here to help.
The Intelligent Heat Alarm detects heat instead of smoke, helping you avoid false smoke alarms. It makes sure, you'll only be alerted when there really is a fire in your home and lets you enjoy the evening in front of your fireplace - without any annoying beep beeps.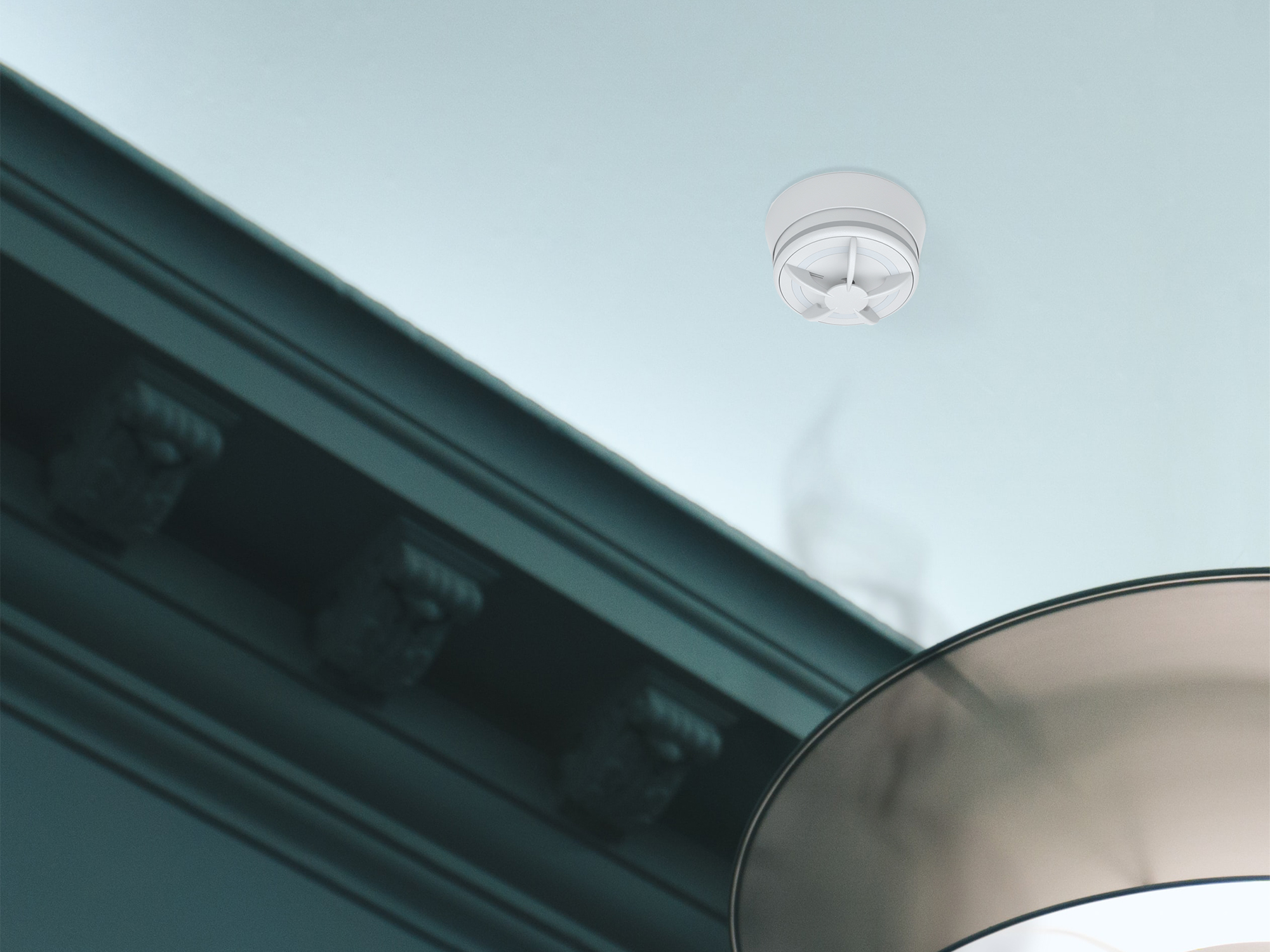 That's what frients are for
Avoiding false smoke alarms
Keeping your home safe from fire
Sending you alerts
Don't be disturbed in the kitchen
You know the feeling of being a master chef cooking a delicious meal for your family, right? You are preparing 5 things at once; you've got something in the oven and several things boiling on the stove, but everything is under control.
Suddenly, you hear the most annoying sound – beeeep, beeeep, beeeep. It doesn't stop. Yep, you got it - it's your smoke alarm. It has mistakenly identified the smoke from your master chef cooking as a fire. The frient Heat Alarm helps you avoid this issue.
Stop playing with fire
The frient Intelligent Heat Alarm detects rapidly increased levels of heat and will only alert you if it detects fire – not if it's just smoke or dust. You can cook all you want, and the heat alarm will not disturb you.
In case of a fire in your home, the heat alarm warns you instantly. You will hear loud beeps and get a notification to make sure you are warned even when you're not at home.
Frients with...
*Not all features supported by all hubs.
** To make the Intelligent Heat Alarm work with SmartThings, you need to install SmartThings Edge drivers. You can download them here.


Reviews from friends of frient
See what other people have to say about this frient
Loud screamer
I bought the heat detector for my (somewhat larger) bicycle shed, because it often gets dusty there. The plastic looks solid and valuable. The device looks solid, small and durable. Installation in the Hornbach smart home system was quick and easy. An accidental function test showed loudly that it is not easy to ignore this device.
Review by Matteo Sulis - Automaticasa
Wondering if the Intelligent Heat Alarmis right for you?
Then check out this video review by Italian smart home YouTuber Matteo Sulis to learn more about how the friently alarm works and find out whether it suits your needs.
Specifications
Communication protocol: Zigbee
Battery: 1 x CR123A, exchangeable
Battery life: 5 years, reporting every 5 minutes
IP class: IP20
Operation temperature 0 to +50°C
Color: White
See all specifications
General
Dimensions: Ø 65 x 40 mm
Color: White
Power supply
Battery: 1 x CR123A, exchangeable
Battery life: 5 years, reporting every 5 minutes
Battery level and low battery warning can be reported
Radio
Sensitivity: -92 dBm
Output power: Typ. +4 dBm
Environment
IP class: IP20
Operation temperature 0 to +50°C
Relative humidity up to 95% non-condensing
Fire sensor
Heat based fire sensing
Siren output 85 dB/3m
Temperature sensor
Range: 0 to +50°C
Resolution: 0.1°C (accuracy ± 0.5°C)
Communication
Wireless protocol
Certifications
Conforming to CE, RoHS and REACH directives
EN 54 and DIN 14676 certified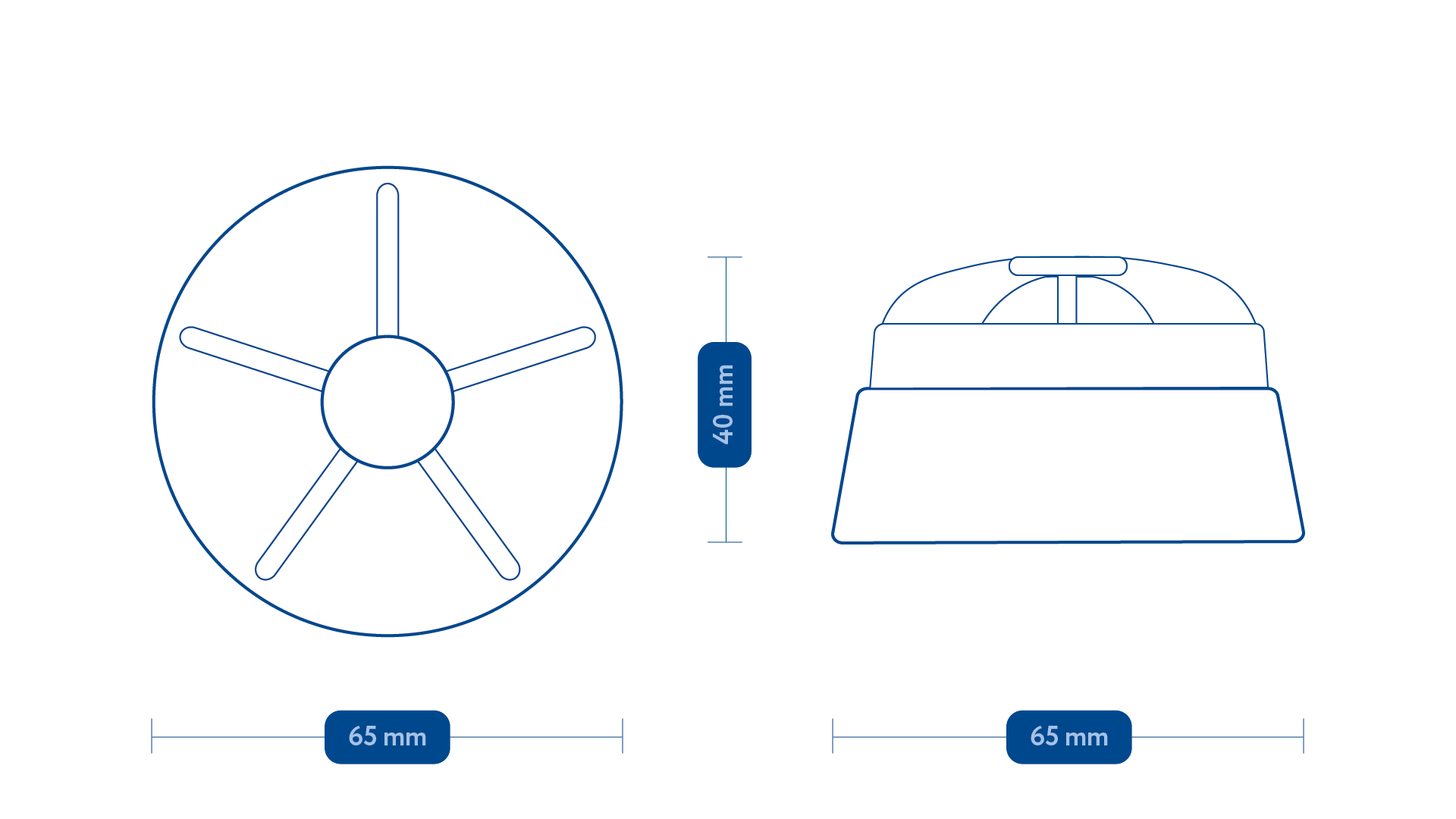 Get started with your new frient
Download the installation manual here.
Wanna be frients?
Stay in touch with your frients. Be the first to meet new frients. Sign up for the frient newsletter.
News from the friently Intelligent Heat Alarm